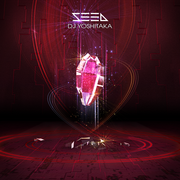 Song Information
Edit
Artist: DJ YOSHITAKA
BPM: 152
Composition/Arrangement: DJ YOSHITAKA
First Appearance: REFLEC BEAT
Other Appearances:
Length: 1:55
None.
Remixes/Song Connections
Edit
SEED could be related to FLOWER, due to their similar composition and name style (both use plant motifs). Both songs are also by DJ Yoshitaka.
A remix of SEED by DJ Noriken, titled SEED (DJ Noriken Remix), can be found in SOUND VOLTEX BOOTH.
SEED was automatically unlocked in REFLEC BEAT on April 6th, 2011, to promote the release of the REFLEC BEAT ORIGINAL SOUNDTRACK.
Difficulty & Notecounts
Edit
REFLEC BEAT difficulty rated from 1 to 10+.
Game
Level
Basic
Medium
Hard
Notecounts
278
324
386
REFLEC BEAT
4
6
8
REFLEC BEAT limelight→Present
4
↑7
8
REFLEC BEAT plus
4
7
8
REFLEC BEAT +
4
7
8