This article is about the international iOS release of REFLEC BEAT, titled REFLEC BEAT +. If you are looking for the Japanese version titled REFLEC BEAT plus, please see REFLEC BEAT plus.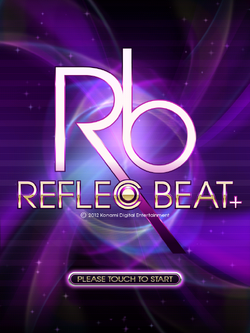 REFLEC BEAT + is a mobile installment of the REFLEC BEAT series made for the iPad, iPhone, and iPod touch, and the first non-Japanese installment. It is available for free on the App Store, with song packs available through in-app purchases (each song pack costs $3.99 / £2.49 to download).
General Information
Edit
Release Date: November 5, 2012
Requirements: iOS 4.3 or later
Song List
Edit
Music Packs
Edit
There are currently 5 song packs available for download.
KONAMI MUSIC PACK 01 (11-05-2012)
Edit
KONAMI MUSIC PACK 02 (11-05-2012)
Edit
KONAMI MUSIC PACK 03 (12-13-2012)
Edit
Note: Unlike the past two music packs, all song titles and artists are left in their original Japanese forms.
KONAMI MUSIC PACK 04 (1-30-2013)
Edit
KONAMI MUSIC PACK 05 (1-30-2013)
Edit